The Benefits of Upgrading to a Smart Point of Sale Terminal
26 June 2023
4 minutes read
Are you looking to upgrade from the traditional Point of Sale (POS) Terminals to a Smart POS Terminal? Well, you're at the right place. In this article, we'll guide you on everything you need to know about upgrading to an intelligent point-of-sale terminal and the perks you enjoy.
What is a Smart POS Terminal?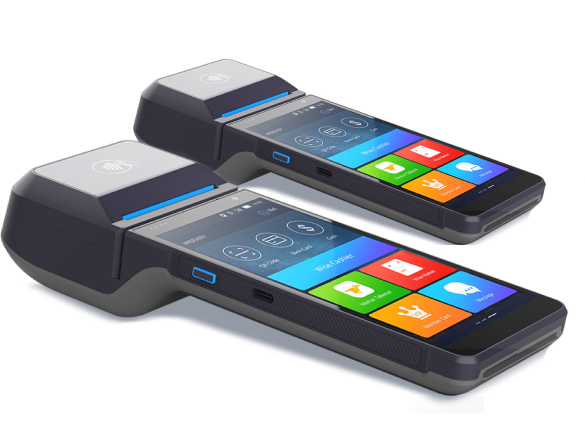 A Smart Point of Sale (POS) Terminal is an advanced electronic device leveraged in businesses for inventory management and sales transactions. It possesses the functionality of a traditional cash register with state-of-the-art technologies to provide a more effective and streamlined checkout experience.
What Are the Differences Between Smart POS and Traditional POS?
Network Type
A smart POS terminal is a web-based system that runs on cloud services. With an accessible internet service, smart POS enables business owners and managers to easily access their data and get real-time reports anytime, any day, and anywhere. One of the perks to enjoy from this is that there is no need to access the machine physically. Quite great indeed!

Traditional POS terminals, or on-premises and legacy systems, are large, bulky machines that store data on local servers and run mainly on a closed network. With the aid of an external payment terminal, it can receive both cash and card payments. However, one of its downsides is that business owners and managers must physically access the machines to review or make any changes to sales data.

Ease of Use
Traditional POS terminals are difficult to use, rigid, and hard to customize. Training new staff for a business with a high turnover rate takes hours before the team can get the knack for the system due to its complexities.

On the other hand, smart POS terminals are very easy to use. It is likened to a smartphone app or tablet. Unlike its traditional counterpart, it doesn't take hours to create, design, and set up. Anyone can also start selling just a few minutes after setting up the system. Some systems, such as Virtual Pay, offer an easy-to-use and accessible smart POS for businesses.
Cost
Smart POS terminals are cost-friendly and follow a subscription model with an automatic online software update from the service provider.

Traditional POS terminals have a very high operating cost, especially regarding maintenance, hardware purchases, training, and software updates. Once the system needs an update, the technicians must travel down to wherever the business is located to update the system, resulting in a huge payment cost and delay in work activities for the day.
Security & Backup
For the traditional POS terminal, the data stored locally are saved on a hard drive, meaning that once the terminal is stolen, lost, or suddenly crashes, your data are entirely lost with no recovery option.

However, for Smart POS terminals, the data saved on a cloud service are highly encrypted and secure. It also performs a daily automatic backup to ensure your data is safe. And, just like our smartphones, you can set a specified time of the day you want the backups to begin.

In addition, some smart POS systems like Virtual Pay use encryption technology to safeguard sensitive data and Two-factor authentication(2FA), which requires users to provide two forms of identification to access their account.
Hardware
Traditional POS terminals are large and weighty, which makes them inconvenient and challenging to handle. The presence of several terminals it needs to be able to accept different types of payment further exacerbates its issues resulting in confusion and disorganization.

Smart POS terminals are incredibly versatile, compact handheld devices with a lightweight design, making them very convenient and easy to handle. Unlike traditional POS terminals, they can be easily brought to customers for any operation.

Virtual Pay, for example, offers an all-in-one smart POS system payment gateway that accepts all kinds of cashless payments, such as debit and credit cards, and supports mobile carriers such as MPESA, eazzypay, PesaLink, tigopesa, and Airtel money.
What Are the Benefits of Upgrading to a Smart POS Terminal?
The various benefits you get from upgrading to a smart POS terminal are as follows:
Efficient Operations and Payment Processing: Upgrading to a smart POS terminal boosts your business's operational efficiency and facilitates faster and more detailed payment processing, saving you time and potential headaches. Thanks to cloud-based POS software, you don't have to rely on one piece of hardware to serve customers — transactions and sales activity reviews can be conducted from various devices like phones, laptops, or tablets.
Improved Inventory Management: Modern POS systems provide real-time inventory tracking. They allow you to import product information, check stock quantities, edit items, flag products for reordering and set up low-stock alerts. Regularly reviewing your inventory data can help you adjust stock levels to maximize sales and improve inventory turnover.
Sharpened Sales Strategy: Smart POS systems offer real-time reporting that can significantly enhance sales strategy. The analytics can show which items are popular, when a business has high and low seasons, and how often customers take advantage of promotions. You can also track sales patterns, view overall sales by season or week, and compare current sales numbers to previous periods. This data is crucial for refining your product offers, sales strategy, and promotional packages.
Integration with Existing Systems: Upgrading your POS system doesn't mean abandoning your current systems. Modern POS systems like Virtual Pay can integrate with various commerce platforms like accounting, sales, marketing, and HR, allowing you to manage everything from one central location and a payment API for custom integrations.
Reduced Administrative Work: Newer POS systems significantly reduce the amount of administrative work compared to older systems. They cut down on paperwork and tedious tasks, reducing the likelihood of errors and saving you and your employee's time. You can send and track invoices easily, view your billing information in one place, and automate tasks like submitting instant orders to suppliers when you're running low on certain items.
Improved Customer Relationships: A modern POS system can improve customer relationships by making the transaction experience fast and easy. It can automatically add new customers to a directory, save their personal and financial information, and send them digital receipts. Moreover, customer profiles with key metrics can help you understand what your customers like and how you can provide better support. Depending on the POS system, you might also be able to add a loyalty rewards program for your customers, incentivizing them to keep buying from you.
Enhanced Security: Ensuring the safety of your customer's financial information is a crucial responsibility for any business. Upgrading your POS system can help safeguard your company records, confidential financial details, and customer information by encrypting all your data. Modern POS systems also handle PCI compliance on your behalf, alleviating worries about audits, assessors, or changing safety requirements. From encryption to data protection, Virtual Pay security measures are by the Payment Card Industry Security Standards Council.
Easier Employee Tracking: Evaluating employee performance can only be easy with access to the right data. A smart POS system can make tracking employee work and evaluating performance easier.
Conclusion on Upgrading to a Smart POS Terminal
Now you know why major businesses have transitioned to smart POS terminals. The best smart POS terminal option for you is Virtual Pay. Get Started with us today and safeguard your business from the pitfalls of payment processing with our integrated solutions.